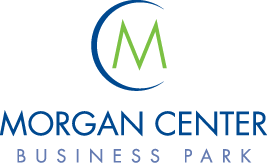 ---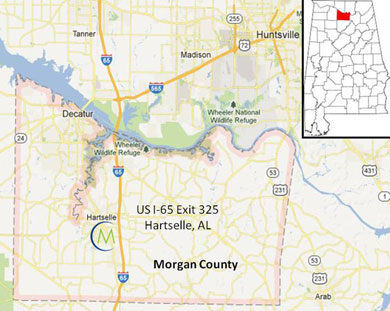 Location
Morgan Center Business Park is strategically located in North Central Alabama along US Interstate 65 at Exit 325. Morgan Center lies near the geographic center of Morgan County placing it 60 miles north of Birmingham, 120 miles south of Nashville, 30 miles southwest of Huntsville and 200 miles southeast of Memphis.
Approximately 135 acres available.
Area & Topography
Fully served 135 acre site with land cost per acre starting at $30,000 (all utility infrastructure in place). The site topography is characteristically flat with an elevation range of 610 to 660 feet above sea level.
---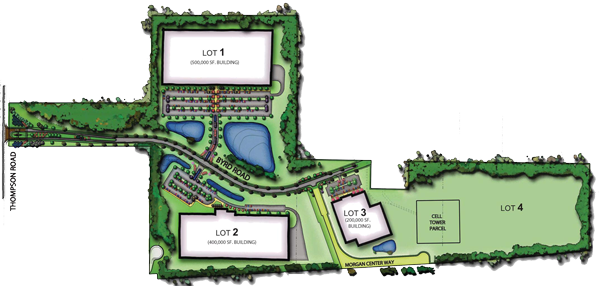 ---
Transportation
Interstate/Highway: US Interstate 65 adjacent to site, (N/S); US Hwy 31 – Four Lane, 1 mile from site, (N/S); AL Hwy 36 – Two Lane, 3 miles from site, (E/W)
Water: Public Port Facility located 20 miles North at Mallard Fox Creek Industrial Park, Channel Mile Marker 299.0 on the Tennessee River.
Air: Commercial Service – Huntsville International Airport (25 miles northeast)
General Aviation: Rountree Field, Hartselle (4 miles west); Cullman Airport, Cullman (12.1 miles south); Pryor Field, Decatur (25 miles north)
---
Infrastructure
Electric: Joe Wheeler Electrical Co-op, TVA (46kV Transmission line and 13kV Distribution line)
Water: Hartselle Utilities (16 inch main onsite)
Sewer: Hartselle Utilities (10 inch gravity wastewater system onsite)
Gas: Hartselle Utilities (4 inch HDPE at 100 psi) & Wheeler Basin Natural Gas (6 inch Steel at 750 psi)
---
Current Companies
No current companies, Morgan Center opened October 2012